Nick was brought up in the construction industry, working for his father's excavation company. Having been brought up working for a family-owned business, Nick saw the need for a company to help remove the stress from people's lives.
Nick graduated in the top of his class from the University of Maine at Orono with a bachelor's degree in Construction Management Technology, and a Minor in Business Administration. With these degrees and the work experience that he gained after college, he has learned how to manage jobs correctly, on-time, and on-budget. And he does it without ever losing sight of treating the client fairly and doing a top-quality job. Nick's work experiences have also given him the knowledge to effectively manage and oversee larger commercial projects.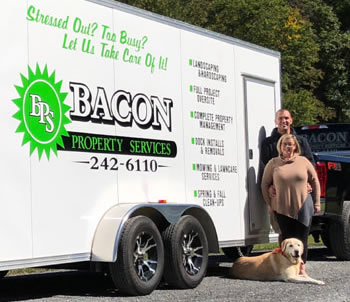 In 2017, Nick started Bacon Property Services with much support from his wife, Megan. With a degree in Business Management, Megan is a paramount asset to running the office at BPS.
We strive for excellence on every job, no matter what aspect we're working on. Having worked in a family-owned business and having been taught that you 'don't do a job unless it is done the right way', we have the moral and ethical background to complete the job in a way that makes the customer's vision a reality.
Although we do everything from sales to service depending on the aspect of the job that we are talking about we strive on creating the demand for full yard makeovers and yard restorations. There is truthfully no job too big or too small, even though we like to specialize in the bigger restorations and project oversite working with a tight knit group of sub-contractors we can still help you with any need you may have!